Moving persistence (P) assessments into the 21st Century: Developing a new paradigm to assess degradation potential of chemicals
Background
Recent progress in the scientific understanding of the underlying processes of persistence and degradation has provided an opportunity to develop an improved framework and best practices for persistence and degradation assessments.
Recent research activities have covered topics such as: Role of microbial community in degradation testing (adaptation, variability); Challenges in conduct and interpretation of simulation tests, including considerations regarding bioavailability and system-dependent variation; Non-extractable residues formation; Effect of concentration, co-metabolism and temperature on degradation kinetics.
Terms of Reference
Revisit the principles for P assignments of organic chemicals in the context of new research
Review recent research activities and assimilate the key aspects to improve and expand experimental design and strategies
Translate the key research findings into a framework document considering new concepts relating to defining persistence
Identify gaps and propose follow-up work/ research projects to fill those gaps
Timing and deliverables
The Task Force held their kick-off meeting in July 2019 and submitted two manuscripts to a peer reviewed journal in January 2021. The first publication focusses on scientific concepts and methods to improve P assessment. The second publication proposes a conceptual framework to move P assessments into the 21st Century.
The Task Force co-chaired the joint session "Persistent (P) and PMT/vPvM Substances in the Environment: Improving Experimental and Weight of Evidence Assessment Methods, Providing Solutions, and Informing Regulations" at the virtual SETAC Europe meeting in May 2020. Here, the Task Force presented its progress within one platform presentation titled "Moving persistence (P) assessments into the 21st Century: Developing a new paradigm to assess degradation potential of chemicals" and with two poster presentations titled "Conceptual framework for moving persistence (P) assessments into the 21st Century" and "Scientific concepts and methods for moving persistence (P) assessments into the 21st Century".
The Task Force hosted a webinar in  September 2020 to share their recommendations with key stakeholders and receive feedback.
The outcome of this Task Force will also be presented at the ECETOC – Concawe – Cefic LRI - Cosmetics Europe "Moving persistence assessments into the 21st Century" workshop in 2022. For more information, see here.
Recent updates and publications
Recent updates and publications
2022 SETAC Topical Discussion Session
Session recording available on demand on SETAC's website
2020 SETAC Presentation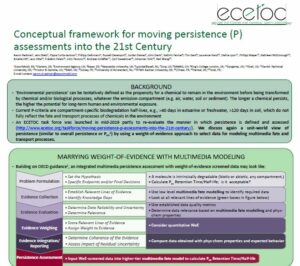 Poster presentation at SETAC 2020: Conceptual framework for moving persistence (P) assessments into the 21st Century
Poster presentation at SETAC 2020: Scientific concepts and methods for moving persistence (P) assessments into the 21st century